Don't be surprised to discover that cyber thieves can hack your Wi-Fi network and steal vital, confidential information from your computer. That's why you should know your wireless network security type – this information can help you protect your system.
From the late 1990s to date, there have been improvements in Wi-Fi security: from the easy-to-hack, hard-to-configure WEP (Wired Equivalent Privacy) to WPA (Wi-Fi Protected Access) and WPA2, advanced network protocols have been designed to make wireless connections safer.
Do you want to learn how to find wireless security information in Windows 10? Are you wondering how to check the security type of a router? Or would you like to ask, "How to know what type of security my Wi-Fi has?" This guide will cover all that information and more; you'll be able to check the Wi-Fi network security type on your Windows 10 PC after reading it through.
There are many techniques people use to check the type of security protocol their Wi-Fi has, but before we start exploring the methods, we'd like to show you some information about Wi-Fi security protocols.
If you're not interested in knowing the details of Wi-Fi security protocols, please skip this part and navigate to the methods of checking the type of security your Wi-Fi has on your Windows 10 computer.
What Are the Three Wi-Fi Security Types?
Not only do Wi-Fi security protocols prevent cyber thieves from breaking into wireless networks, but they also help to encrypt private data transmitted over a network. How effectively a Wi-Fi security protocol protects your network and data determines how reliable it is.
Below are the three known security protocols that have been approved since 1999, when the first wireless security protocol was used in wireless networks:
1. WEP (Wired Equivalent Privacy)
If you know the level of security that wired networks offer, you'll understand why this wireless network security protocol was named WEP. Wired networks offer security that surpasses that of wireless networks, so wired connections are used as some kind of benchmark here.
When wired networks transfer data between two points, the process does not involve third parties. Wireless security protocols, meanwhile, transmit data between two points and broadcast this transaction to every connected device within a certain range.
The WEP protocol's security level was intended to be equivalent to the level of security wired networks provide; unfortunately, it fell too short of the intended goal. The security protocol is easy to break into and is also hard to configure.
Before it was finally abandoned in 2004, several modifications had been made to make it better, but it remained a highly vulnerable wireless security protocol. If your device uses this protocol, you should perform a firmware upgrade immediately.
2. WPA (Wi-Fi Protected Access)
WPA is a lot better than the WEP security protocol, even though it has its security issues too. Modern WPA-enabled applications use a pre-shared key, PSK (also known as WPA Personal), and they also use an authentication server to generate keys and certificates.
The encryption used by this wireless network security protocol is the Temporal Key Integrity Protocol. WPA was developed with core components that could enable a firmware upgrade to it from the WEP security protocol.
Though WPA is more secure than the WEP protocol, it can also be breached quite easily. And the biggest threats to the network security protocol are not from direct attacks but from Wi-Fi Protected Setup (WPS), which helps to simplify connectivity between devices and access points.
3. WPA2 (Wi-Fi Protected Access 2)
WPA2 is an upgrade to the WPA security protocol, and it has an improved security system. It uses the US government-approved Advanced Encryption Standard (AES) for encrypting classified information.
WPA2 is very secure for home wireless networks. However, cyber thieves may be able to break into the wireless network of an enterprise if they already have access to it and keys that can help them access other devices on that network.
Unlike WEP and WPA, WPA2 is relatively easy to configure. It uses more processing power compared to the other two, which makes it inaccessible by old access points and hardware that can't support the protocol – a firmware upgrade may make it more accessible, though.
What Is the Most Secure Type of Wireless Network Security Protocol?
At present, WPA2 is the most secure. Even though people who have access to a secured Wi-Fi network and specific keys can hack into other devices on the network, it takes about 2-14 hours to breach the WPA2 network security protocol successfully.
If your device isn't performing well with the WPA2 security protocol, the issue may be the amount of processing power that the network security protocol uses, which causes your Windows 10 PC to be slow.
Use a system optimization tool such as Auslogics BoostSpeed to improve your computer's speed and performance so that you'll enjoy operating your computer despite the processing power that WPA2 consumes.
RECOMMENDED
Resolve PC Issues with Auslogics BoostSpeed
Besides cleaning and optimizing your PC, BoostSpeed protects privacy, diagnoses hardware issues, offers tips for boosting speed and provides 20+ tools to cover most PC maintenance and service needs.
FREE DOWNLOAD
Once installed, Auslogics BoostSpeed does the following:
Automatically diagnoses issues on your computer
Cleans out junk files
Restores system stability
Speeds up computer processes
Guarantees privacy protection (by protecting passwords and other saved details)
Performs automatically scheduled system maintenance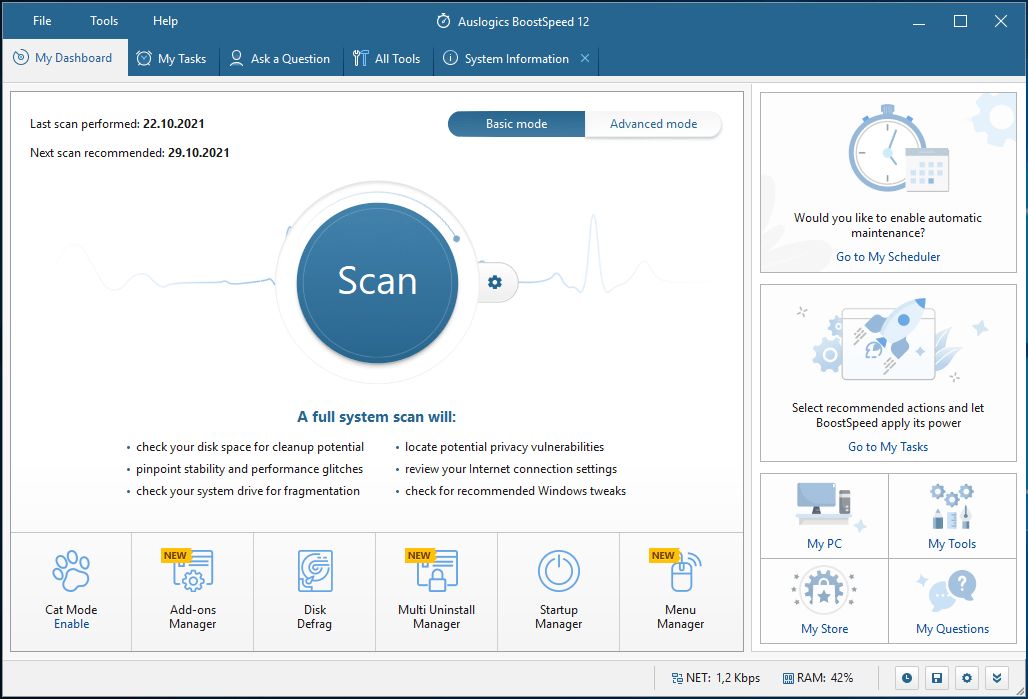 How to Check Your Wi-Fi Security Type in Windows 10
There are three main methods of checking the Wi-Fi security type on your Windows 10 computer, and they are described in the paragraphs below:
1. Via Wi-Fi Network Settings
Checking your Wi-Fi network settings is the simplest way to find out what Wi-Fi network security type your system has. However, these settings do not show the encryption type that your Wi-Fi network is using. Follow the methods below to check your Wi-Fi network security type:
Step 1: Click the network icon on the taskbar.

Step 2: From the network connections that appear, select the network you're connected to and click Properties.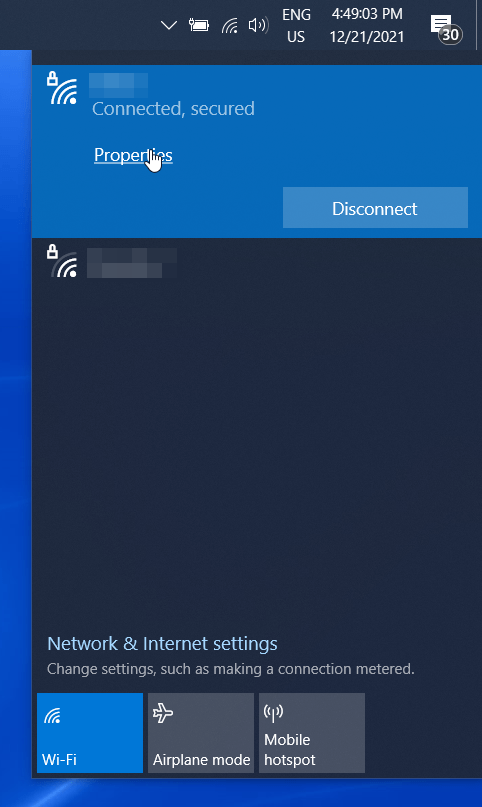 Step 3: In the window that appears, scroll down to Properties and carefully observe the title "Security type."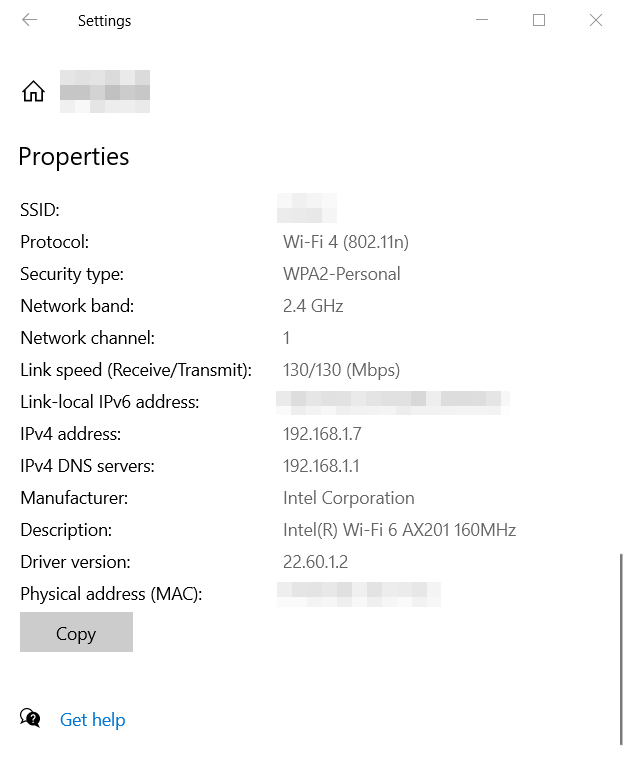 Your security type will be WEP, WPA, or WPA2. It is the network security protocol of your wireless connection.
2. Through the Network and Sharing Center
The Network and Sharing Center is literally a hub for settings related to network connections and file-sharing options on a Windows PC. It is mostly accessible from the Control Panel of the computer. Follow the steps below to check your Wi-Fi network security type using this method:
Step 1: Press the Windows logo + R shortcut, type control into the dialog box, and press Enter.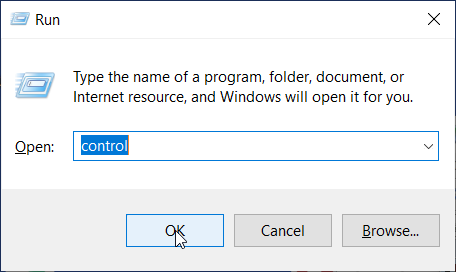 Step 2: Select View network status and tasks.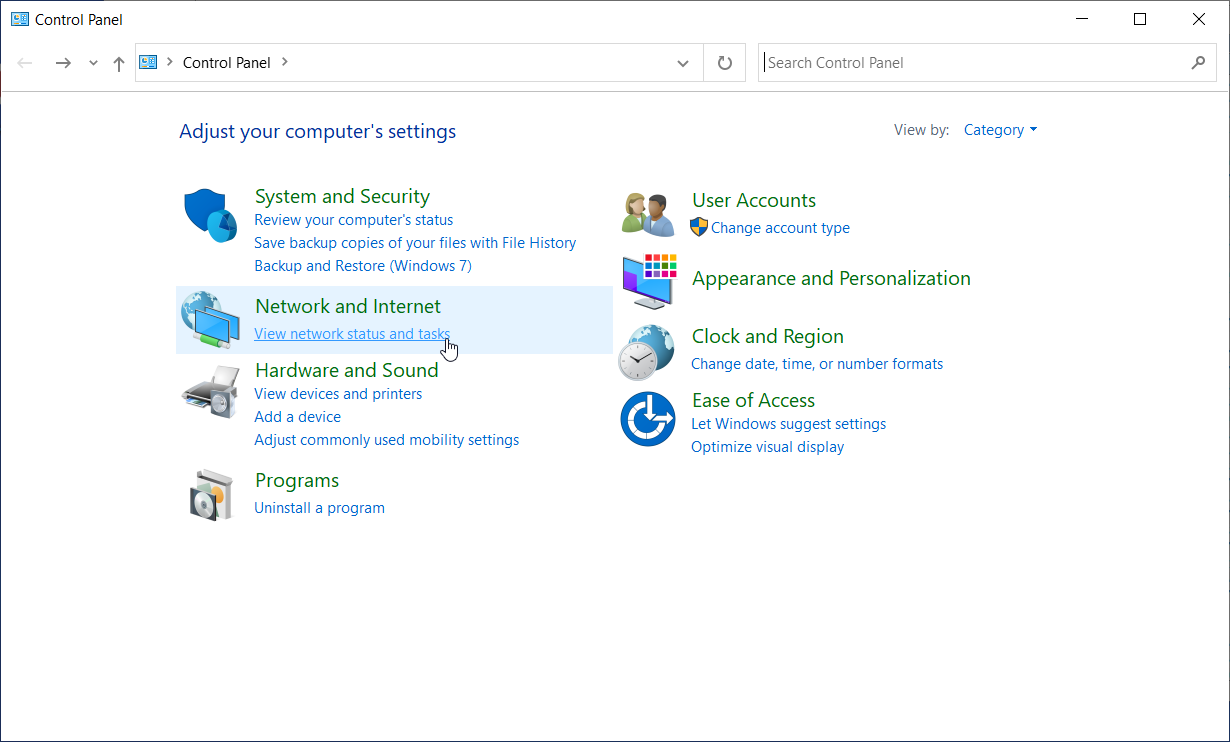 Step 3: Click Change adapter settings on the left panel, and double-click the Wi-Fi network you are connected to.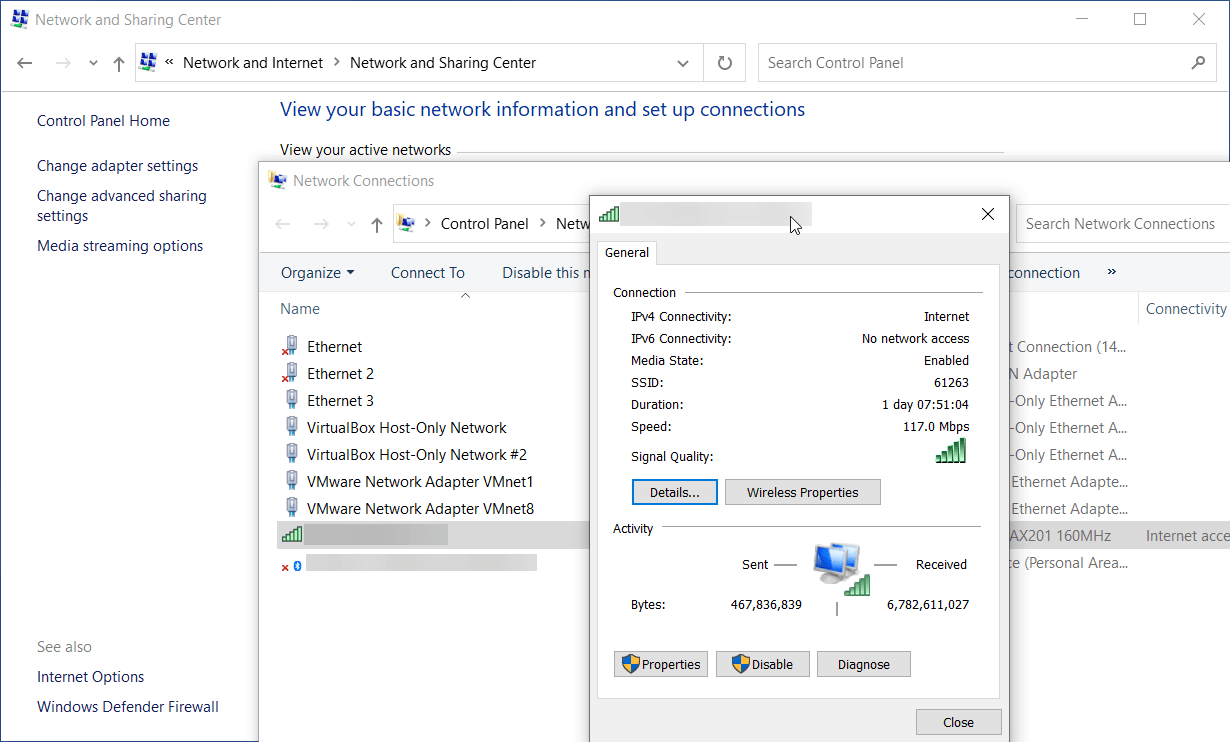 Step 4: Click on Wireless Properties, and then click the Security tab of the Network Properties window. Here, you'll find your connection's security type, encryption type, and network security key.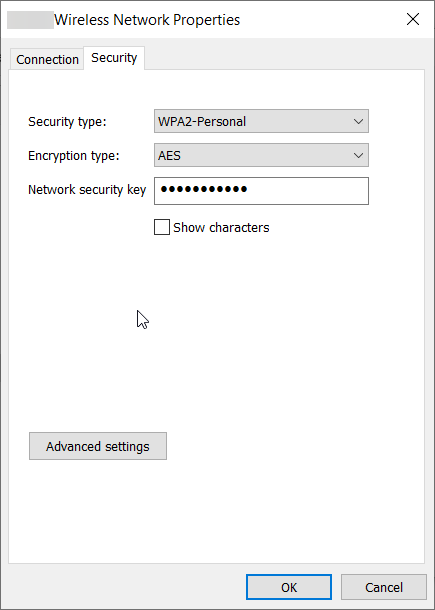 3. Using the Netsh Command-Line Utility
You will find this method useful if you prefer to use the Command Prompt interface over the Graphical User Interface (GUI). The following steps will show you how to check your Wi-Fi network security type in Windows 10 using the Netsh command-line utility.
Step 1: Click the Start menu button in the bottom-left corner of your screen and type cmd into the search box; then select Run as administrator.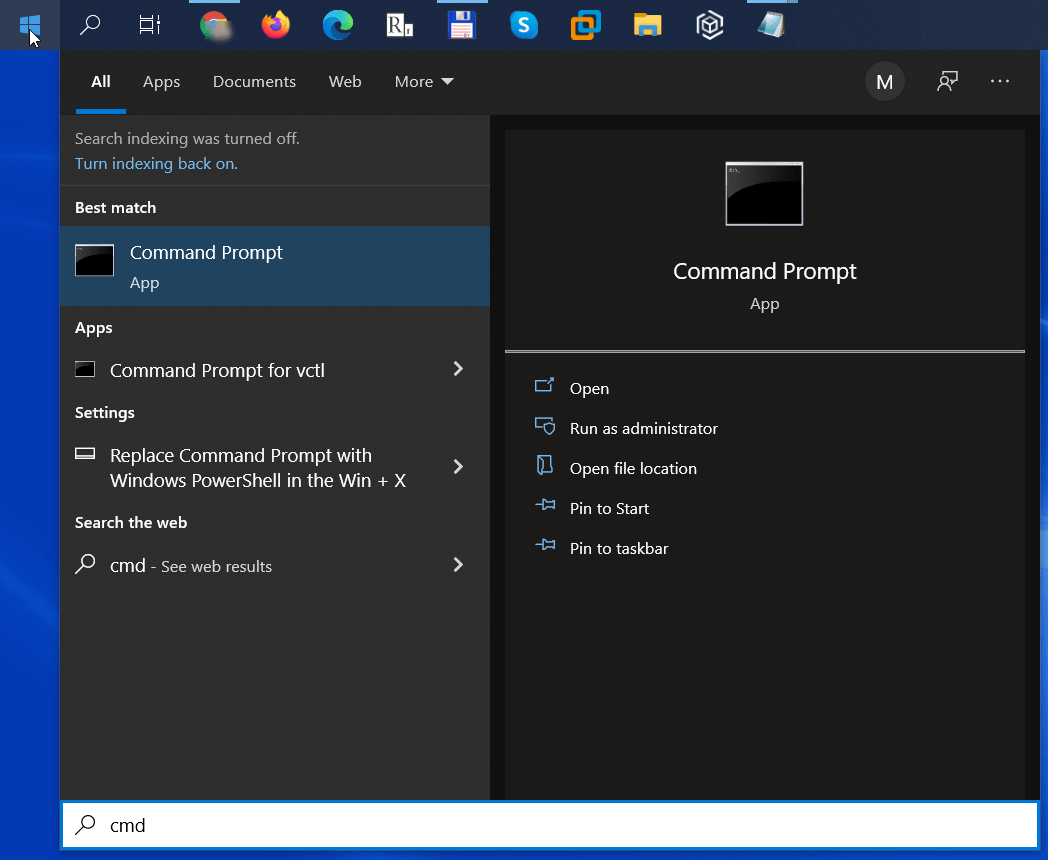 Step 2: Type "netsh wlan show interfaces," and then press Enter.
Step 3: Under Authentication, you will find the Wi-Fi network security type on your Windows 10 computer. Unfortunately, this method does not show the encryption type for your wireless connection.
Conclusion
The methods in this guide should have helped you to check your Wi-Fi security type. If you have other questions related to your Windows 10 computer, our blog may help to answer them.