Compared to Windows XP, Vista is a much heavier and resource-hungry operating system. It has lots of great features, like Aero, but they can slow down your computer, especially if it doesn't have enough RAM or has a weak CPU.
Luckily, it's possible to speed up computer running Windows Vista by customizing its settings. So before you spend a lot of money on new hardware, follow these simple steps to improve Vista performance.
Use ReadyBoost to improve Vista performance
The good thing about Windows Vista is that it has several performance-improving. ReadyBoost is one of them. Basically, it lets you use a USB flash drive as secondary memory cache, which helps your computer to run faster. Keep in mind that it's no substitute for RAM, though.
Also not all USB devices are ReadyBoost-compatible. Here are the drive requirements:
It has to be USB 2.0
It must be at least 256MB (though it's pointless to use a device smaller than 1GB)
Minimum read speed has to be 3.5 MB/s
Minimum write speed has to be 2.5 MB/s
If you don't know whether your flash drive is ReadyBoost compatible or not, give it a try anyway. If it is, the AutoPlay box will give you an option to use ReadyBoost: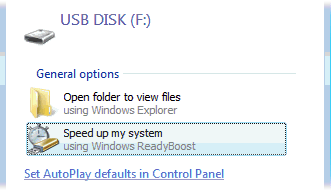 If AutoPlay is disabled, do the following:
Go to Computer, right-click on the removable storage device and select Properties.
If the drive is compatible, you will see ReadyBoost there. Click on it.
Select Use this device and set the amount of space to be used for ReadyBoost system file.
Click OK.
Disable Vista Aero Glass
Windows Vista Aero Glass looks really cool, but everything has its downsides. In case of Aero it's heavy RAM, CPU, and graphics card usage. Just to give you an example – Aero can consume as much as 15% of CPU. Also it's no good for laptops, because it greatly reduces battery life. When the Aero theme is turned off, battery life is equal or better than on XP computers.
Disabling the Aero theme is easy: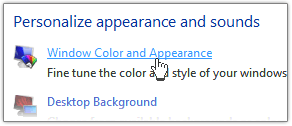 Right-click somewhere on your desktop free space and click Personalize.
Click on Window Color and Appearance.
Click Open classic appearance properties for more colour options.
Select any theme you like. The Windows Classic theme is best for performance.
Speed up external hard drives
Windows Vista operates internal and external hard drives in a different way. By default write caching is disabled for all USB drives. This means that you can remove them whenever you want without any risk of data loss. However, if you have a large external hard drive always connected to your computer, disabled write caching is not really necessary. Besides, re-enabling write caching will improve Vista performance.
To re-enable write caching:
Click on Start, then right-click on Computer and select Manage
Go to Device Manager
Expand Disk drives and find your external hard drive
Right-click on it and click on Properties
Open the Policies tab and click on Optimize for performance
Check Enable write caching on the disk and Enable advanced performance
Press OK and reboot your PC
Improve SATA disks performance
You can also speed up Vista SATA disk drives by enhancing write caching. Here's how:
Click on Start, then right-click on Computer and select Manage
Go to the Device Manager
Expand Disk Drives
Right-click on your hard drive and go to Properties
On the Policies tab check Enable advanced performance

Press OK and close the Device Manager
The only downside of enhancing write caching is potential risk of data loss in case of power cuts. So, unless you are a laptop user and your battery is there to save you, be careful and backup everything. Now you know how to speed up your computer running Vista operating system.
For more performance tweaks try out a comprehensive system utility – Auslogics BoostSpeed. With this program you will be able to tune over 280 hidden system settings to speed up your Vista's performance.