It is undeniable how essential video files are in the digital entertainment industry. Across the world, technology is progressing rapidly. Moreover, people continue to develop ways to make multimedia usage more convenient. With that said, there is a high chance that you've encountered MKV files.
In an effort to keep up with the demand, Microsoft improved its media player by offering support for .mkv and .flac files. Of course, this was great news for many users. However, once Windows 10 was rolled out, many complained about hearing no audio from the .mkv files they played on their device. If you're in the same predicament, keep reading this article and we'll teach you how to solve sound problems with MKV files in Windows 10.
What are MKV files?
A Matroska Video file, more widely known as an MKV file, is an open source file which was created in Russia in 2002. Its name was inspired by Russian matryoshka dolls. This set of wooden nesting dolls decrease in size and are stacked inside each other. Similarly, the MKV file format functions as a multimedia container that combines audio, video, and subtitles into a single file.
Aside from the aforementioned, some of the great qualities of MKV files include support for menu, chapters, online streaming, error recovery, and various video and audio streams. What's more, since the MKV file format is an open source, it means that anyone do not have to pay a fee just to use it. It is also the basis for the new WebM multimedia format.
You might be wondering, "If MKV files are so rich in features and so awesome, why can't I hear audio when I play them on my Windows 10 device?" Well, there might be issues with the DTS audio codec, which most .mkv files use. It is also possible that your audio drivers are outdated. Don't worry because we can teach you how to solve sound problems with MKV files in Windows 10.
First Method: Using a third-party media player
If you're using the Movies and TV app on your Windows 10 device, you won't hear sound from your MKV files because the program does not have support for the DTS audio codec. As of this writing, Microsoft has not yet released an update that can solve this issue. So, instead of using the Movies and TV app, it would be best if you switch to a third-party media player like VLC. You can download and install this program to your device for free.
With that said, here are the steps in using VLC media player for your MKV files.
Look for the .mkv file, then right-click it.
Select Open With from the drop-down menu, then choose VLC Media Player.
To use VLC Media Player as the default program for .mkv files, follow the steps below:
Locate the MKV file, then right-click it.
Once the drop-down menu shows up, select Open With.
Click Choose Another App.
In the new app selection window, choose VLC Media Player.
Make sure that you select the box beside 'Always use this app to open .mkv files'.
Click OK to save the changes.
Second Method: Converting MKV files to MP4
If you cannot resolve the
problem yourself, you can
ask our certified PC technicians for immediate assistance in the
chat
right on this page.
If you've tried the first solution and the problem persists, it is possible that there is something wrong with the MKV file itself. You should be able to fix the problem by converting the file format to MP4. By now, you probably have VLC Media Player installed on your computer. You can use it to convert the problematic MKV file into an MP4 file. Just follow the steps below:
Launch VLC Media Player.
On the menu, click Media.
Select Convert/Save, then click Add to upload the .mkv file in question.
If you want to add a subtitle file, select 'Use a subtitle file'.
Click Browse, then add the .srt file.
Press the Convert/Save button, then choose your preferred .mp4 file format.
Choose the folder where you want to save the file.
Click Start.
Quick solution
To quickly fix
«No sound with MKV files in Windows 10»
issue, use a safe FREE tool developed by the Auslogics team of experts.
The app contains no malware and is designed specifically for the problem described in this article. Just download and run it on your PC.
free download
Developed by Auslogics
Auslogics is a certified Microsoft® Silver Application Developer. Microsoft confirms Auslogics' high expertise in developing quality software that meets the growing demands of PC users.
Third Method: Running the built-in troubleshooter
One of the great things about Windows 10 is that it has different troubleshooters designed to fix specific issues. You can also use the one dedicated for repairing audio problems to get back sound on MKV files. To do this, follow the instructions below:
Click the Search icon on the taskbar.
Type "settings" (no quotes), then hit Enter.
Select Update and Security.
Go to the left bar menu and choose Troubleshoot.
Under the Get Up and Running section, choose Playing Audio. This should launch the audio troubleshooter. Wait until the program identifies and resolves the issue.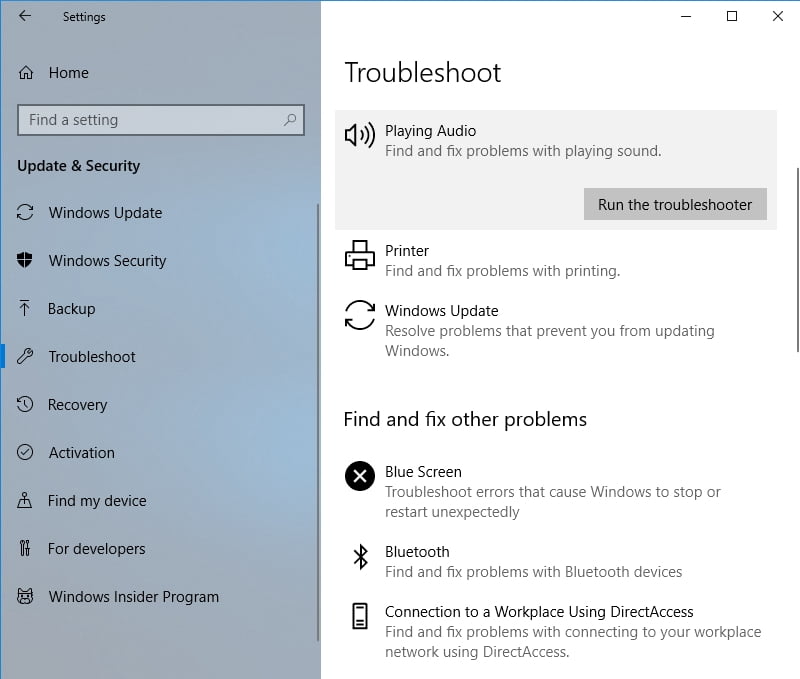 Fourth Method: Updating your audio drivers
It is also possible that outdated or missing drivers are the reasons why you can't hear sound from your speakers when you play MKV files. To get rid of this problem, you have to ensure that all your drivers are updated to the latest manufacturer-recommended versions. Of course, you can do this manually. However, we do not recommend it because the process can get complicated and time-consuming.
As such, we suggest using a one-click solution like Auslogics Driver Updater. All you have to do is click a button and this program will automatically search for the latest and compatible drivers for your Windows 10 OS. What's more, this tool fixes all problematic drivers—not just the ones which caused audio issues on MKV files. Once the process is complete, you can enjoy better speed and performance from your device!
RECOMMENDED
Resolve PC Issues with Driver Updater
Unstable PC performance is often caused by outdated or corrupt drivers. Auslogics Driver Updater diagnoses driver issues and lets you update old drivers all at once or one at a time to get your PC running smoother
DOWNLOAD NOW
Do you have other suggestions for fixing sound problems on MKV files?
We look forward to reading your ideas on the comments below!