If all those *flipping* Windows messages look the same to you, and you've just hit "Yes" on the dialog saying "Are you sure you want to permanently delete this file?", don't despair! Even if, to all outside appearances, the file is completely gone, recovering deleted files usually takes just a few simple steps.
First:
Check that the file isn't:
In the Recycle Bin;
Somewhere in your email Sent box – have you emailed it to anybody?
Somewhere online – have you uploaded it somewhere?
If the file was created with a compliant program, and deleted using Windows Explorer, it will be in the Recycle Bin. However, if you deleted the file at the command prompt, from a folder compressed within Winzip/Winrar etc, or deleted it from removable media like a USB memory stick, it bypasses the Recycle folder completely. Your method for how to recover deleted files will be the same no matter how you lose the file, though.
RECOMMENDED
Resolve PC Issues with Auslogics BoostSpeed
Besides cleaning and optimizing your PC, BoostSpeed protects privacy, diagnoses hardware issues, offers tips for boosting speed and provides 20+ tools to cover most PC maintenance and service needs.
FREE DOWNLOAD
If you need to recover a deleted file, best practice is to do it quickly. Don't leave it until after a week of heavy computer use; the only reason that files are still accessible after deletion is that the information is still there, even though the space is marked as "free" by Windows. If Windows overwrites the information (which is likely if you are a heavy computer user or have little free space on your hard disk), your chances of recovery decrease considerably.
Remember that installing the recovery software on the drive where your lost information was stored also creates the possibility of overwriting it – install your software to a separate disk or use a portable version, if possible.
The solution:
Undelete or file recovery software. Windows doesn't have any built-in utilities for recovering deleted files – Microsoft seems to think that the Recycle Bin is the only second chance you'll ever need. Fortunately, there are a lot of third-party applications, such as Auslogics File Recovery, that can do the job.
Look for a program that: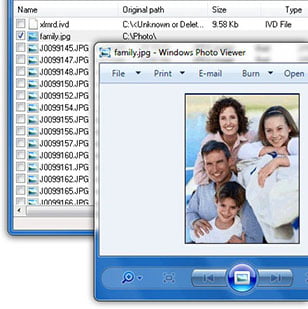 Has an easy-to-use intuitive interface showing you how to recover deleted files.
Has support for any types of drives and devices (all types of hard drives, floppy disks, digital camera memory sticks, flash memory cards and other USB devices).
Has flexible search options to reduce recovery time.
Includes the ability to preview photos while browsing through the list of detected lost files. This option will help you to recover exactly what you need.
Is able to restore files from a lost partition.
The software itself will walk you through the process of getting your deleted files back – you can be typing away again in as little as fifteen minutes.
Preventing the problem!
Once we've had this sort of scare, most of us tend to un-fuzz our brains a little more before pressing buttons on Windows messages! Apart from a bit of increased attention, here are a couple of steps you can take to help you stop having to recover deleted files in the future:
Create a system image once a week when your computer is running well to ensure you have files backed up elsewhere.
Consider using the cloud for work – Google Docs has an autosave function that works every few seconds!
If your edition of Windows includes the Back Up File Wizard, use it nightly.
Use a third party backup program if you don't like the Windows version.
Save important files onto a CD/DVD, a flash drive, or a removable hard drive.
How can I prevent file loss in the future?
Perform regular PC maintenance to ensure your drives are in perfect working order and to prevent crashes.
Auslogics BoostSpeed is the most complete and expert-recommended tool for full PC maintenance and optimization. And what's more, File Recovery is already part of the BoostSpeed package.