How to Partition Your Hard Drive: Create a System and a Data Partition
Do you know what's the best way to stay healthy? Avoid getting sick in the first place! Same with computers – it's always best to do as much as you can to prevent them from slowing down in the first place. Now, there is no need to pretend that it's possible to fully prevent system speed degradation. No matter what you do, your computer will gradually become slower. The question is how soon. If you don't do anything, your computer can start becoming sluggish after only a couple of months of use. Not a good scenario. But there is something you can do to help your system stay fast for as long as possible – keep the operating system and your files on separate partitions.
Keep your OS and data separated
There are many reasons why you should keep your operating system and your files in separate locations. For a start, your files will be safe even if your operating system fails. Also keeping your OS and your data files separated will prevent your system files from becoming fragmented, prevent clutter from building up where your OS is located, and ultimately keep your computer running faster for a longer period of time.
Ideally, you'd want to keep your operating system and files on two different hard drives. But if that's not possible, keeping them on two different partitions works too. It's best to partition your hard drive when you are setting up Windows, but it's also possible to do it even after you've been using your computer for quite some time. Just be careful and back up your files before creating and resizing partitions. And now, let's get started!
Windows 7
If you have Windows 7, then creating two separate partitions is going to be as easy as running Disk Cleanup. That's because Windows 7 has a built in Disk Management tool, which is very intuitive and easy to use.
When creating a new partition, plan to allocate at least 20GB. More is always  better, but 20GB is an absolute must. In addition to that, make sure that you have at least 5GB of free space at all times to avoid errors and crashes. If you are running low on disk space, you can free it up by uninstalling unused software, moving large files (videos, music, etc.) to a separate drive, or simply re-partitioning your hard drive.
Now let's launch the Disk Management tool. To do that, click on Start and type partition in the Search bar.

Wait for
Create and format hard disk partitions
to appear and hit
Enter
. This will open the Disk Management tool that shows all your partitions and their properties, such as size and available free space.
If your hard drive is not partitioned yet, you'll need to shrink the system partition before you create a new one. To shrink a partition, right-click on it and select Shrink Volume.

The Disk Management tool will check the volume for available space and you will then be able to specify by how many MB you want to shrink the system partition. Type the number in the box and then click
Shrink
.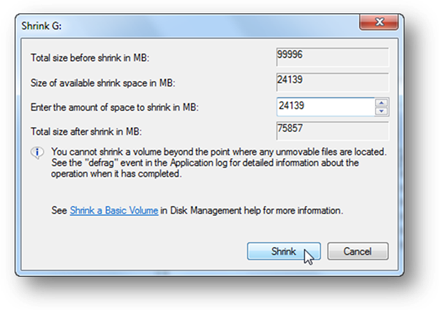 When the job is done, the space will appear as Unallocated in your Disk Management tool's window. You can now either use this space to create a new partition or assign it to an existing partition. To use the unallocated space to create a new partition, right-click on it and select  New Simple Volume.



The New Simple Volume wizard will appear and provide on-screen instructions for creating a new volume. You can customize the new partition by selecting the amount of unallocated space you want to assign to it, selecting a drive letter and the file system (you will need to reformat the free space if you change the file system).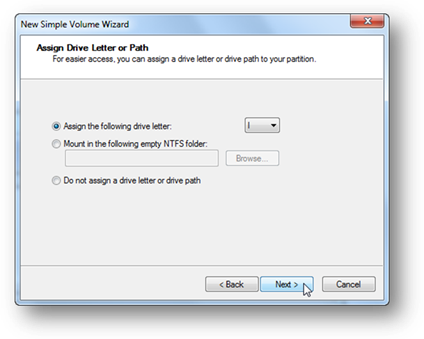 If all you want is add the unallocated space to an existing partition, simply right-click on the partition you wish to extend, select Extend Volume and add all of the unallocated space to it.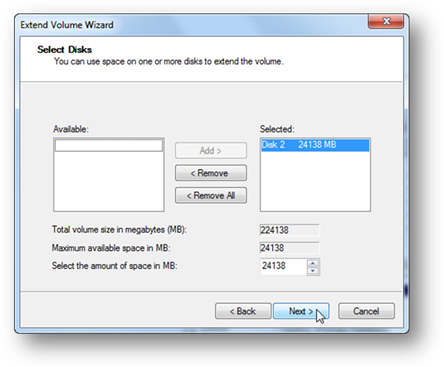 That wasn't too difficult, was it?
Instructions on how to partition your hard drive in Windows XP and some useful data management tips in our ebook "Turbo Windows – the Ultimate PC Speed Up Guide". Download it for FREE now!