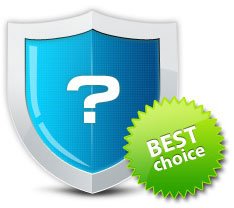 What is the best antivirus software for 2012? The year 2011 saw some exciting new versions of popular antivirus programs. The two giant security software rivals, BitDefender and Kaspersky, released new redesigned versions of all their products. Same goes for all other popular antivirus developers, such as McAfee, Norton, avast! and others. But what is the best antivirus software 2012 and what should you consider before you decide which antivirus to get? Let's find out.
There are dozens of antivirus programs out there…
… not to mention all the Internet security suites, anti-malware programs, anti-spyware software and behavioral scanners. All these programs are designed to protect the user from viruses, malware, spyware and other threats. However, different users have different needs. That's why it's not easy to say what is the best antivirus software 2012.
Some people are looking for antivirus software that can provide automatic protection against all possible threats, updates itself in the background without causing any interruptions and has an easy to use interface. Others are looking for a solution that won't affect system speed and performance and won't interfere with their work too much. And there are advanced computer users who want total control over what the antivirus does, as these users don't require some features that are needed by computer novices. But what is the best antivirus software 2012 for you?
When choosing an antivirus, a lot of home users look for a complete solution that will protect them from all kinds of security threats. This means that they are looking for antivirus, anti-malware and anti-spyware protection bundled up together. In addition to that, a lot of users like to have protection against phishing and identity theft, which is very important in the age of social media viruses and scams. It's also always good to have an e-mail and IM scanner. So, if you are looking for complete protection, you need an antivirus that has all the basic features plus privacy and identity control, anti-phishing, and IM protection. All these features are present in Kaspersky, BitDefender, Auslogics and avast! antiviruses. This should answer the "what is the best antivirus software 2012" question for you.
However, feature-rich antiviruses have one significant disadvantage – they consume a lot of system resources. So, if your computer doesn't have the latest hardware and is not very fast in the first place, the antivirus will slow it down even more. In extreme cases, antivirus software can make your computer very slow and can make it freeze (especially when you are performing a scan). So what is the best antivirus software 2012 for slower, less powerful computers? The answer is pretty easy – you need an antivirus that is light on system resources while providing top quality protection. So, if speed and performance are what you need, you should consider programs like Auslogics Anti-Malware.
Making the decision what is the best antivirus software 2012 depends on your preferences and needs. However, there are some things that every computer user should consider. Make sure the antivirus of your choice has good detection rates, has all the features you need, and is not too heavy on system resources.