'We can't fix all problems but we must fix the ones we can'
Bono
As sadly ironic as it sounds, some losses leave us at a loss what to do next. Let's say your Windows 10 Bluetooth disappeared – would this kind of adversity lead you to frustration? Well, we guess so. And yet this issue is no big deal: you can easily fix Bluetooth problems thanks to the quick and simple solutions below.
Here our top 10 tips on how to fix your broken Bluetooth connection:
Check Your Hardware
Turn Off Airplane Mode
Manage Bluetooth Devices
Allow Bluetooth Devices to Connect to This Computer
Disconnect and Reconnect Your Bluetooth Devices
Check Bluetooth Services
Run Bluetooth Troubleshooter
Fix Your Driver Issues
Scan Your PC For Malware
Perform a System Restore
Just work your way down to find the best method for you:
1. Check Your Hardware
If your Bluetooth connection is missing in Windows 10, make sure it is not a hardware issue. To do so, check whether the Bluetooth feature on your device is enabled. If it is, test your device on another Win 10 PC – needless to say, a faulty piece of hardware will not work anywhere. Besides, if you and your device go back a long way, you might need to update its firmware so that it can connect to your computer.
2. Turn Off Airplane Mode
Feeling a bit jet-lagged? Well, you'd better get some rest. By the way, remember to disable Airplane Mode on your laptop – otherwise, you will not be able to use your Bluetooth.
To disable Airplane Mode, go this way:
Start -> Settings -> Network & Internet -> Airplane Mode -> Turn the option off
Wireless devices -> Bluetooth -> Toggle it on
3. Manage Bluetooth Devices
The next step is to make sure your PC can be found by Bluetooth devices.
To enable this option, go to:
Start -> Settings -> Devices
Bluetooth -> Manage Bluetooth devices -> Toggle the Bluetooth option to turn it on
4. Allow Bluetooth Devices to Connect to This Computer
Bear in mind that no Bluetooth device can connect to your PC until you give permission.
Here is how you can do that:
Start -> Control Panel -> Hardware and Sound -> Bluetooth Devices
Options -> Check the box next to "Allow Bluetooth devices to connect to this computer"
5. Disconnect and Reconnect Your Bluetooth Devices
Some Bluetooth fixes are actually a piece of cake. For instance, if your PC finds it impossible to detect your wireless devices, remove them and then add them back.
Just follow these steps:
Start -> Settings -> Devices -> Bluetooth & Other Devices -> Click on your problematic device -> Select the Remove device option
Reconnect the device to your laptop
This simple trick may bring your Bluetooth connection back.
6. Check Bluetooth Services
If your Bluetooth keeps playing up in Windows 10, we recommend you to take a closer look at your Bluetooth services – there is a very good chance they might be behind all this.
To check the Bluetooth services in Win 10, do the following:
Windows logo key + R -> Type 'services.msc' (without quotes) into the Run box -> OK
Search for the Bluetooth services (e.g. Bluetooth Support Service, Bluetooth Handsfree Service)
If any of them is disabled, right-click on it -> Start
If your Bluetooth services are running, right-click on them -> Select the Restart option
Double-click on Bluetooth Support Service -> Properties -> General -> Startup type -> Automatic -> Apply -> OK
Repeat the step 5 for all the Bluetooth-related services in the list
See if your Bluetooth is working now.
7. Run Bluetooth Troubleshooter
Believe it or not, your Windows 10 itself can troubleshoot Bluetooth issues – just let it have a go.
Here is how to do that:
Start -> Settings -> Update & Security
Troubleshoot -> Bluetooth -> Run the Troubleshooter
Wait for the troubleshooting process to finish
You will be given relevant instructions if necessary
8. Fix Your Driver Issues
Even if your drivers seem to be in good nick, they might be responsible for the 'missing Bluetooth' case on your computer. To fix this issue, we recommend you to update your drivers by using one of the following methods:
Update your drivers manually
To do so, download the latest drivers for your hardware models from the vendors' websites and install them on your PC.
Utilize Device Manager
Device Manager is a built-in Windows tool aimed at handling your hardware.
Here is how you can use it to your advantage:
Go to: Win + X -> Device Manager -> Select your Bluetooth device
Right-click on it -> Select Update driver
Use Driver Updater
If you want to resolve all your driver problems both safely and effectively, consider using special software. For instance, Auslogics Driver Updater can update all your drivers in one click and save you a lot of time and effort.

RECOMMENDED
Resolve PC Issues with Driver Updater
Unstable PC performance is often caused by outdated or corrupt drivers. Auslogics Driver Updater diagnoses driver issues and lets you update old drivers all at once or one at a time to get your PC running smoother
DOWNLOAD NOW
9. Scan Your PC for Malware
So, your Bluetooth does not seem to be pulling its weight, does it? Well, you should not get angry at it – the point is, malicious software may be at work. Do not hesitate to run a full system scan to find out whether your PC is malware-infected.
You can detect and crush malicious intruders with the help of the following tools:
Windows Defender
Windows Defender stands by you through thick and thin: this security solution comes as part of your OS and does its utmost to keep your computer safe.
Here is how you can scan your system with Windows Defender:
Settings -> Update & Security -> Windows Defender
Open Windows Defender -> Full
Your third-party antivirus
Your main security solution is supposed to be your tower of strength in difficult times. Thus, let it deliver a crushing blow to the malicious invaders.
Auslogics Anti-Malware
There is never too much caution when it comes to protecting your PC against malware. Therefore, you need another line of defense so that no unwelcome guest can penetrate your system. Auslogics Anti-Malware can shoulder this responsibility and give you the much-needed peace of mind.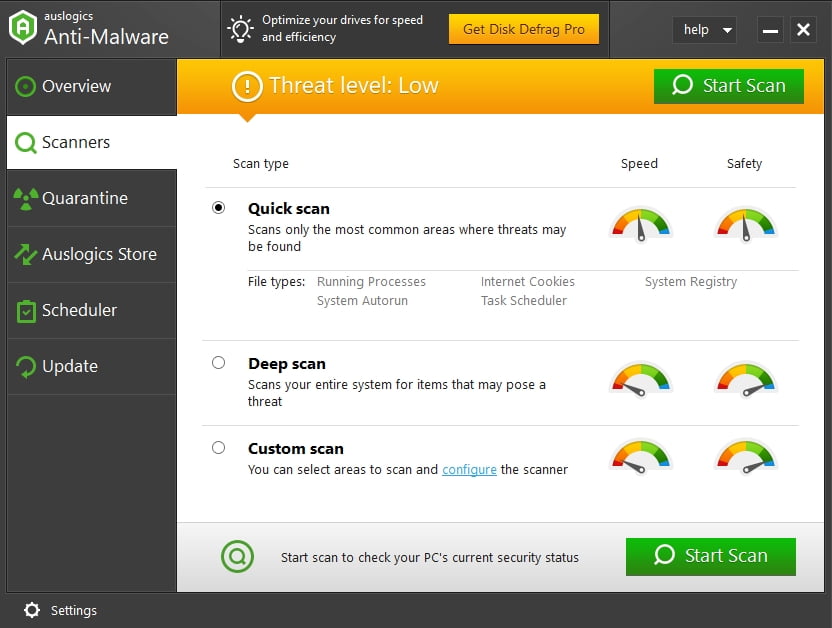 10. Perform a System Restore
If all the fixes above have been to no avail, try rolling your computer back to an earlier point – this might resolve your annoying Bluetooth issues.
It is a good idea to back up your personal files first to avoid losing them permanently. For this purpose, you can use:
Cloud drives (e.g. Google Drive, Yandex Drive, Dropbox, OneDrive, etc.)
Portable storage devices (e.g. external drives, flash drives, CDs, etc.)
Backup software (e.g. Auslogics BitReplica)
Now you can go back to the time when your Bluetooth was OK:
Start -> Control Panel -> System and Security -> File History
Recovery -> Open System Restore -> Next
Select the restore point you want to return to-> Next -> Finish -> Yes
We hope you have managed to bring your Bluetooth back to life. Feel free to share your tale of triumph.
Do you have any ideas or questions regarding this issue?
We are looking forward to your comments!