There are many ways to improve computer performance, from hardware upgrades to editing the registry. However, upgrading hardware can be pretty expensive and editing the registry manually can do more harm than good. In this article we're going to show you how it's possible to speed up computer in five simple steps.
Step 1 – check your PC for malware
Malware is the most common cause of sudden computer slow-downs. If you are running Windows, it's always possible that you have a couple of infections hiding somewhere. Even if you have safe browsing habits and regularly update your antivirus software. That's why it's a good idea to scan your computer with different security software once in a while. It's always best to scan for malware in Safe Mode, so look for security software that has an option to do that, like Auslogics Antivirus and Malwarebytes.
Once you are certain that there are no viruses and malware on your computer, you can proceed with the rest of the steps.
Step 2 – free up disk space

As time goes by, you start noticing that your hard drive is becoming really full and there is not that much free space left. That's normal, because you create and download files, and install software. But did you know that a lot of disk space is occupied by useless junk files that do nothing more than hog your PC? Typically these files are the browser cache, Windows temporary files, Recycle Bin contents, outdated System Restore points, and unnecessary duplicate files.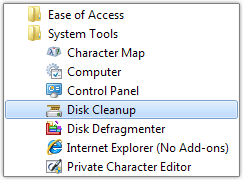 Windows has a built-in Disk Cleanup tool, which will help you get rid of everything except duplicate files. To use it click on Start –> All Programs –> Accessories –> System Tools –> Disk Cleanup. Then select the drive you want to clean and click OK. The Disk Cleanup tool will analyze the drive and present you with a list of files to delete. You can check and uncheck boxes in the Files to delete list to specify what you want deleted. After that click OK and wait for the utility to do the job.
If you want to free up even more hard drive space, you can delete old System Restore points. To do that click on the More Options tab, find System Restore and click on the Clean Up button. You will then get a message asking if you want to delete all but the most recent Restore Points. Click Yes to confirm, then click OK.
If you are using Windows 7, you'll need to click on the Clean up system files button first, then select the drive, click on More options and then click on the Clean up button under System Restore and Shadow Copies.
The Windows Disk Cleanup tool doesn't have an option to find and delete duplicate files, which can take up a significant amount of disk space. Fortunately there are many free utilities, like Auslogics Duplicate File Finder, that can do the job.
Step 3 – clean your desktop
If your Windows desktop is cluttered with files, it's a good idea to clean it. The more cluttered your desktop is, the more time Windows needs to load. Also if your computer takes a long time to respond and you see the hard drive light flashing, files on the desktop might be the cause of that.
The solution is to move files to folders, for example the Documents folder, and delete application shortcuts you don't use very often – you can always launch these applications from the Start menu.
Step 4 – uninstall unused programs
One more way to speed up computer permormance is to check what software you have installed and see if you need all the applications or not. To see all the applications installed on your computer do the following:
If you are using Windows XP:
Go to Start –> Settings –> Control Panel –> double-click Add/Remove Programs.
If you are using Windows Vista or 7:



Go to Start -> Control Panel and click Uninstall a program (if you are using the Classic View of the Control Panel, then you would double-click on the Programs and Features icon instead).
Most likely, you will find programs you've used only once or twice. Removing them will free up disk space and make your PC run faster.
Step 5 – defrag to speed up access to files

Disk fragmentation slows overall system performance. When files are fragmented, the computer must search the hard disk when the file is opened to assemble its pieces together. That's why the response time can be significantly longer if you have a lot of fragmented files.
As a rule you should defrag your drives once a month. However it's always a good idea to run defragmentation if:
you've just downloaded a lot of files;
you have only about 15% of free disk space left;
you've just installed new software.

Windows has it's own Disk Defragmenter utility. To access it click on Start –> All Programs –> Accessories –> System Tools –> Disk Defragmenter. Then click on the Analyze button to see if your hard drive needs to be defragmented.
If you, like most computer users, don't like the Windows Disk Defragmenter because it's slow and doesn't have enough features, you might want to use a free third-party utility like Auslogics Disk Defrag or MyDefrag.
You can also try an all-in-one system utility, called Auslogics BoostSpeed. The program is supplied with 18 tools, including disk cleaner, uninstall manager, disk defragmenter and registry cleaner, that are designed to speed up your PC and help it stay fast and stable. You can download a 15-day trial and scan your computer for performance issues for free.
Now you know how to speed up your computer.