Voice over Internet Protocol (VoIP), is a technology that allows you to make voice calls and undertake video conferencing using a broadband internet connection instead of a regular phone line. VoIP offers a great many benefits and is being taken up by households and businesses alike. As the extensive cost savings over traditional phone lines and simplicity of getting set up become more widely recognised, adoption has accelerated, and Private Branch Exchanges (PBX) are being created across homes and the workplace.
But just how easy is the set up of a PBX from your computer? A simple question with a simple answer – it's very straightforward, quick and easy to set up and get running. All you need is an internet connection. When establishing a small business VoIP system, the capacity of the connection is important. The higher the number of calls your business receives, the more bandwidth will be needed. Besides a router, there are a few other pieces of hardware you may need. If you are looking to set up a PBX for the office, you, of course, will need a computer to act as your server. You also could consider IP phones but these are not essential, as calls can be run through the computer itself.
Zadarma's PBX has been widely recognised for its ease of use. The free Cloud PBX provides a versatile business phone system with a setup time taking a matter of minutes. PBX supports Interactive Voice Response (IVR), conditional and unconditional call forwarding as well as other communication powerful features. With this intuitive software and clear instructions, even the most non-technical individuals can easily set up most PBX systems.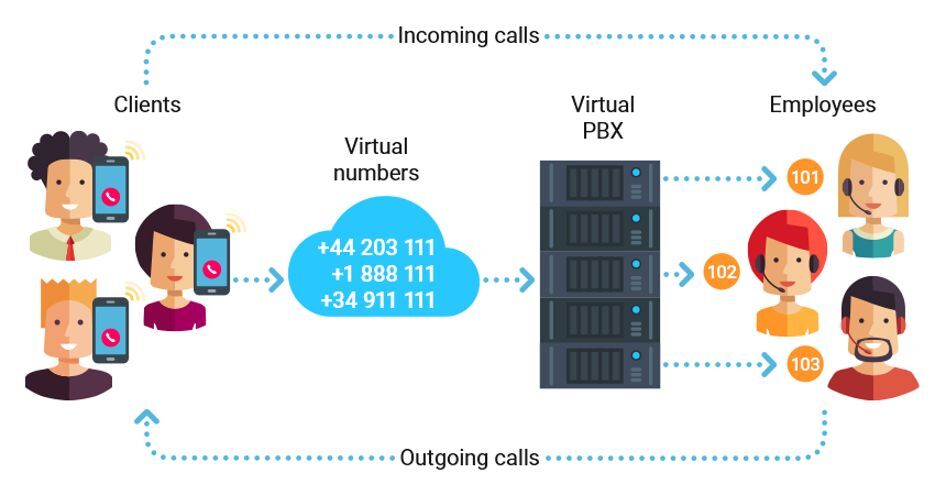 The 5 simple steps to set up a virtual PBX
A Cloud PBX can be valuable for voice communications for companies with any number of employees,  allowing them to connect any amount of phone numbers in regions convenient for your clients and direct calls to appropriate employees. You can have virtual phone numbers in different countries, and your cloud PBX will route calls and voicemails according to your settings.
To set up your chosen VoIP provider's PBX, you can follow these basic steps:
Register with your VoIP provider and top up your account
This will involve completing the registration page. Most VoIP providers will offer a 'Standard' price with per-second billing and free minutes, this should be sufficient for basic use. You can change the price plan as and when required. If you make a lot of calls, consider phone system bundles with included virtual numbers and outgoing call minutes to different destinations. Log into your personal account and check the call quality by making a test call, and then top up your account. Adding a small amount to your account can be sufficient for up to two numbers and outgoing calls for the first time.
Choose and order a virtual (DID) number
Now select the virtual numbers required against the required cities listed. Often your virtual phone numbers in London for instance will be activated immediately. You may well have provided proof of address to register to numbers in different countries. The process of purchasing a virtual number varies depending on different countries' subject to varying national legal requirements. After you upload the necessary documents your phone number will be activated within 1 working day.
Activate your PBX, and follow the setup instructions, found within your personal account
This stage sounds complicated but it really is not. It is more a switch on and personalise stage. With Zadarma, for instance, you simply press the «Switch on» button (in the «My PBX», «Extension numbers» section) to activate the cloud PBX in your personal account. You then go to the «My PBX», «Wizard» section. Zadarma's PBX allows you to:
Add the number of employees & how many extension numbers you will need.
Add up to 50 extension numbers at any time later on
Enable call recordings
Set up your CRM
Set up your voice menu & voice greeting message to allow call forwarding & diverts. All incoming calls to PBX will be automatically directed to the employees.
Simply download and install a softphone on your PC or mobile phone
You can download and install most VoIP apps for Android through entering your login and password and now you can make and receive calls.
Setup more advanced features including voice menu, autoresponder, call recording, conference calls functions as required.
Setting up a PBX from your own computer is easy and takes less than 10 minutes. A PBX is not limited to any specific geographical location, which can lead to massive call savings for businesses or personal calling. Whatever your calling needs, your entire organisation or network, regardless of where they are in the world can consolidate their communication infrastructure into a single PBX system. Why not check out Zadarma's PBX and experience the instant internal & external cost saving you can make today.