If you've been using Windows for quite some time, you are probably familiar with Blue Screen of Death errors. They are so common in the operating system that many people have become accustomed to them. However, if this is the first time you've encountered one, it is only natural to panic. After all, it causes Windows 10 to crash, restarting the computer to prevent further damage. That said, you should not worry because we will teach you how to remove the error 0x00000070 on Windows 10.
What is STOP 0x00000070: SESSION4_INITIALIZATION_FAILED?
In most cases, the STOP 0x00000070: SESSION4_INITIALIZATION_FAILED error shows up after users installed new software or hardware. This can occur while a Microsoft-related program is running, while a Windows driver is loading, or while you are booting/shutting down your system. Several factors can cause this error, including outdated or incorrectly configured device drivers, corrupted Windows registry, or damaged system files, among many others.
It is important that you keep track of where and when the STOP 0x00000070: SESSION4_INITIALIZATION_FAILED error appears because this information is crucial in solving the problem. Doing so will help make the troubleshooting process easier for you. For instance, if you recently added new software, then uninstalling that program will likely fix the issue. In any case, keep reading this article to learn how to fix the SESSION4_INITIALIZATION_FAILED error.
Method 1: Updating your Drivers and your Operating System
When you regularly update your drivers, you can ensure that your hardware works smoothly with Windows 10. If you happen to install one that is not completely compatible with your operating system, then you will have trouble using that hardware and you might encounter the SESSION4_INITIALIZATION_FAILED error.
So, to resolve this problem, we recommend updating your drivers. You have to ensure that you are downloading the latest ones that are compatible with your operating system. You can do this manually and visit the manufacturer's website to get the right drivers. However, we do not recommend this method because it can be time-consuming, complicated, and even risky. If you install the wrong drivers, instead of fixing the BSOD error, you might cause additional problems like system instability.
What we suggest is automating the process, using Auslogics Driver Updater. After installing and activating this program, all you need to do is click a button, and it will automatically scan your entire system. It will locate corrupted, outdated, and missing drivers, ensuring that they are updated to their latest, manufacturer-recommended versions. What's more, it will take care of all problematic drivers in your computer—not just the ones which caused the SESSION4_INITIALIZATION_FAILED error. So, once Auslogics Driver Updater completes its task, you will notice an improvement in the performance of your PC.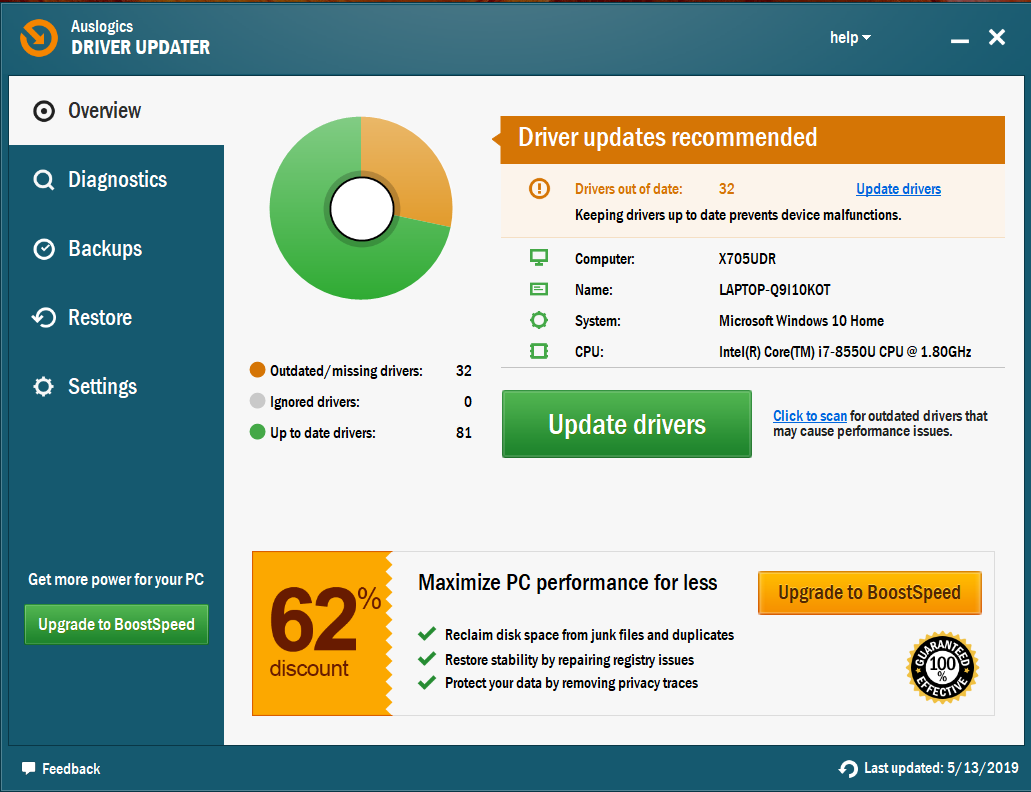 Aside from downloading and installing the latest drivers, it is also important that you update Windows. After all, Microsoft uses these updates to release new features, fixes for bugs, and improvements on its hardware and software. As we've mentioned, BSOD errors are usually caused by software and hardware issues. So, to ensure that your PC is stable and error-free, we recommend updating your operating system.
Method 2: Uninstalling the Problematic Software
If the error appeared after you installed any new software, then it is advisable to remove it to see if doing so fixes the problem. If you've done that and yet the issue persists, then there might be something wrong with an application or driver you recently updated. So, we recommend removing the driver by following these steps:
Go to your taskbar, then right-click the Windows icon.
Choose Device Manager from the list.
Now, look for the driver you wish to get rid of. Right-click it, then select Uninstall from the options.
If the 'Delete driver software for this device' option is available, make sure that it is selected.

RECOMMENDED

Protect PC from Threats with Anti-Malware

Check your PC for malware your antivirus may miss and get threats safely removed with Auslogics Anti-Malware

DOWNLOAD NOW

Click OK.
After removing the problematic driver, restart your computer. Windows will automatically install the default version for the missing driver. Now, you can check if the error is gone. If it is, you can continue using the default version or update the driver.
If you have a third-party antivirus program, it might be the culprit behind the BSOD error. So, it is advisable to remove that too. Do not worry because you still have the built-in security tool to protect you. However, if you wish to have a program that is more powerful and reliable, we suggest using Auslogics Anti-Malware. This tool has been designed to be fully compatible with Windows 10. So, you can continue using it, and it will not cause BSOD errors.
The other way to identify problematic software is by performing a Clean Boot. Doing so lets you launch your system with minimal services, drivers, and programs.
You can do that by following these steps:
Open the Run dialog box by pressing Windows Key+R on your keyboard.
Now, type "msconfig" (no quotes), then click OK. This should bring up the System Configuration window.
In the new window, choose Selective Startup, then deselect Load Startup Items.
Go to the Services tab, then select the 'Hide all Microsoft services' option.
Click the Disable All button.
Save the changes by clicking Apply and OK.
Open Task Manager by pressing Ctrl+Shift+Esc.
Go to the Startup tab, then right-click any item on the list.
Select Disable from the options.
Repeat steps 8 and 9 for all the items on the list.
Once you've done that for all the entries, exit Task Manager, then restart your computer.
If the STOP 0x00000070: SESSION4_INITIALIZATION_FAILED error is gone, then it means that that the culprit is a particular software program. To determine what this is, you have to perform the steps and enable the applications and services one by one until you find the one that causes the error.
Method 3: Checking your Hardware
BSOD errors can also be caused by hardware problems. So, if you recently added a piece of hardware, try removing it. If the STOP 0x00000070: SESSION4_INITIALIZATION_FAILED error is gone, then it is likely that the product is not compatible with your computer. In most cases, RAM issues cause Blue Screen of Death errors. So, it would be best if you checked if yours is functioning properly.
Method 4: Resetting Windows 10
If you've tried the solutions above and the problem persists, then it is time for a Windows 10 reset. Before you proceed, you must know that this method removes all the files from your drive. So, make sure you create a backup before you perform the reset. Here are the steps:
Restart your PC. While it is booting, long-press the Power button to restart the device again. Keep on doing this until you see the Automatic Repair options.
Select Troubleshoot, then click Reset this PC.
Follow this path:
Remove everything ->Only the drive where Windows is installed ->Just remove my files ->Reset.
Follow the on-screen instructions to complete the reset process.
What other BSOD errors would you like us to solve?
Ask your questions through the comments section below!