One thing you don't want to happen in the heat of a Call of Duty: Warzone gaming session is an error that boots you out of the lobby.
Even so, you may be able to bear losing gameplay if the error shows up when you just start your loot. But you'll have more reasons to worry if the game crashes toward the end of the match.
One of those annoying errors is the dev error 6634. The issue has been around for a while and continues to plague gamers at different intervals.
In this article, we'll show you how to fix dev error 6634 in Warzone on Windows 10 and Windows 11.
What is Dev Error 6634 in Warzone on Windows 11 and Windows 10
Many dev errors occur in Call of Duty: Warzone for different reasons, from game-related issues to system glitches. The dev error 6634 happens to be one of them but is known to show up more on Windows computers.
This particular error could be showing up because your graphics card driver or operating system is out of date, you have problematic game files, or there is an issue with your shader.
But with the right fix, you'll be able to resolve the issue for good. Thankfully, we've compiled the best fixes on how to get rid of the dev error in Warzone.
Let's begin.
Confirm Your System Requirements
If you just started playing COD: Warzone, or just installed it to another computer, consider checking that the system's specifications meet the game's minimum requirements.
The game's requirements are moderate, so most modern gaming PCs should be able to run it without issues. That said, you shouldn't move on to other troubleshooting steps without confirming your computer's compatibility with Warzone.
For starters, you need a 64-bit Windows operating system to run the game and anything below Windows 10 won't work.
You must have at least 8 gigabytes of RAM and 175 gigabytes of free hard drive storage space.
Your PC must be equipped with, at least, the Nvidia GeForce GTX 670 or 1650 or AMD's Radeon HD 7950 graphics card.
You can check these details in the DirectX Diagnostic Tool menu.
To do that, open the Run dialog box (use Win + R), then type "dxdiag" into the text box and hit the Enter keyboard button. You can check your PC's requirements in the System Information section of the System tab. To check your graphics card details, head to the Display 2 tab.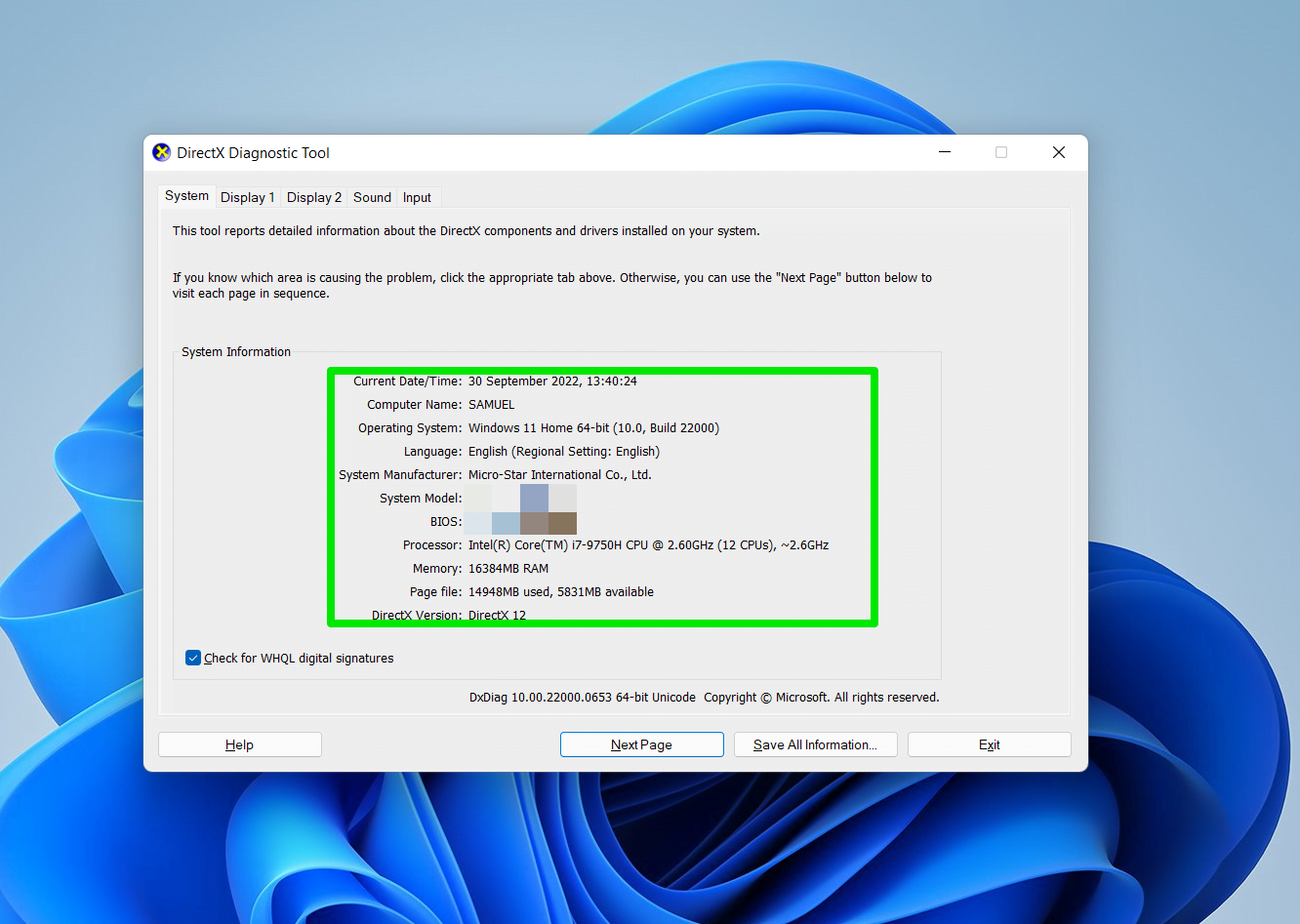 If your system doesn't meet the game's minimum requirements, then that could explain the dev error. You can continue reading if your computer is well-equipped to run Call of Duty: Warzone.
Install Windows Updates
Windows Updates come with critical components and resources that allow your operating system to run smoothly. Call of Duty: Warzone requires most of these components to run without problems.
The dev error 6634 may be showing up because your computer lacks some updated operating system components. These could be the latest .NET Framework or the DirectX runtime package.
So, update your PC and check if that resolves the issue.
Here's how to download and install the latest Windows updates on Windows 10:
Go to the Start menu and click on the Settings icon. You can also right-click the Start button and select Settings from the menu.
After Settings appears, click on the Update & Security button.
Now, click on the Check for Updates button if the client does not start searching for updates automatically.
You should also click on the Download & Install button next to the feature or quality updates on the page.
Once the tool completes the downloads, you may be required to restart your computer.
Follow these steps if you're running a Windows 11 computer:
Press the Start button on your keyboard and click on the Settings gear.
After the Settings page shows up, head to the top-right corner and click on Windows Update. You can also click on Windows Update at the bottom of the left pane.
After the Windows Update page shows up, click on Check for Updates and allow the tool to check for the latest updates and install them.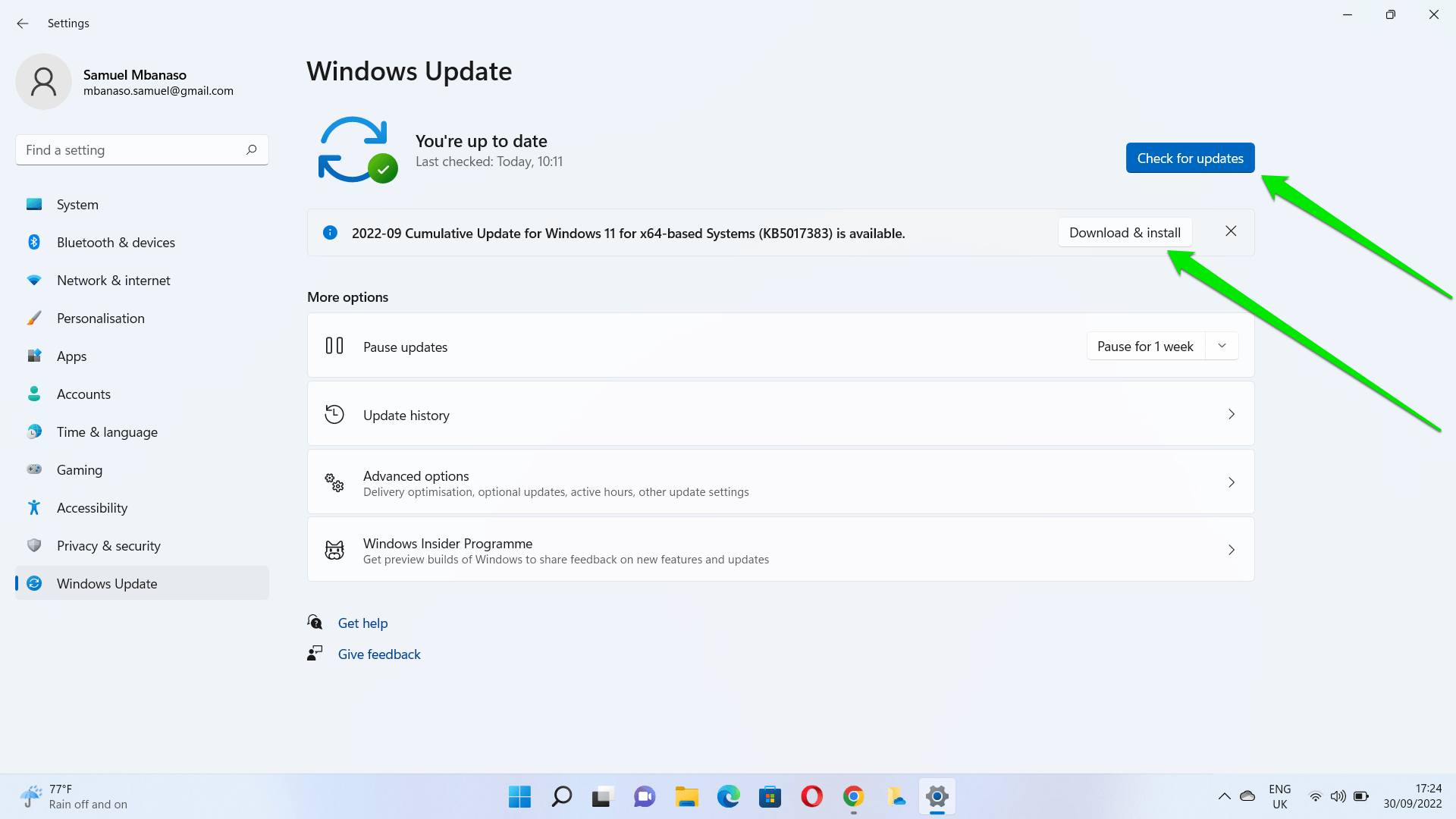 Now, restart your system once the download is complete and ready to install.
Update Graphics Card Driver
Games in the Call of Duty series typically crash whenever a PC experiences graphics-related glitches. These glitches often stem from issues with the display card driver.
The driver may be corrupted or out of date. Since it relays messages between the operating system and the piece of hardware, your game will always encounter problems whenever it malfunctions.
So, update the graphics card driver and check if it's the cause of the error.
There are different ways to update the driver, from using the Windows Update client to using a reliable third-party service.
Using Windows Update
Follow these steps for Windows 10:
Launch the Settings app and click on Update & Security.
When you get to the Windows Update page, click on View Optional Updates.
Once you see the Optional Updates page, open the Drivers section and select your graphics card driver by checking the box beside it.
Now, click on the Download and Install button to start the process.
Follow these steps for Windows 11:
Use the Win + I shortcut to launch the Settings program.
After the app shows up, head to the Windows Update client page by clicking on Windows Update in the top-right corner of the Settings interface.
Next, click on Advanced Options.
After the Advanced Options page appears, go to Other Options and click on Optional Updates.
Expand the Drivers section after the Optional Updates page shows up.
Now, select your graphics card driver and click on Download and Install.
Downloading from Nvidia or AMD
You can go to your card's manufacturer's driver webpage to find and download the tool. Before you do that, make sure you confirm your card's model and operating system architecture. Installing an incompatible driver could result in serious issues.
Using a Third-Party Program
If you want to avoid the hassle of always checking Windows Update for new drivers or going to Nvidia's or AMD's website, you can use Auslogics Driver Updater.
The tool is designed to search your Windows 10 or Windows 11 system for incompatible, corrupt, or outdated drivers. Once it finds such drivers, it automatically helps you update them.
Whether it's your audio, graphics, or network drivers, Auslogics Driver Updater is equipped to download and install the right driver package from the official source.
RECOMMENDED
Resolve PC Issues with Driver Updater
Unstable PC performance is often caused by outdated or corrupt drivers. Auslogics Driver Updater diagnoses driver issues and lets you update old drivers all at once or one at a time to get your PC running smoother
DOWNLOAD NOW
If you get the full version, you'll be able to download and install multiple driver packages at once.
With the program, you no longer have to worry about driver-related issues as it can perform regular checks to find out when you need to update.
Free Up Your System and Video Memory
As you know, COD: Warzone is a resource-demanding game. It requires a healthy amount of RAM and video memory to run smoothly. That's why its minimum RAM requirement is 8 gigabytes.
So, you may be seeing the dev error because your RAM or video RAM may be clogged up. Try clearing these memories then check if that resolves the problem.
The most efficient way to free up your video RAM and system memory is by restarting the game. This action will reset the usage of your system's resources because running it for a long time causes memory leakage.
You can also restart your computer to clear up the clogged-up system memory.
Scan and Repair Game Files
Corrupt and missing game files are no good for Call of Duty: Warzone or any other game for that matter. Since the game files control gameplay and how your system reads the program, you'll see all sorts of errors if anything goes missing or becomes corrupt.
That could be the issue behind the dev error. Some critical game-related files may be damaged or may have gone missing.
So, try scanning for problematic game files and repair or replace them using your game launcher.
Follow these steps:
Launch the Battle.net client by searching for it in the Start menu or by double-clicking its Desktop client.
Once the client opens, locate the game in the left pane and click on it.
Next, go to the main screen and click on Options.
Now, select Scan and Repair from the menu.
Click on the Begin Scan button.
The client will now check for problematic game files and attempt to repair any that it finds. It may completely replace the files from its servers.
Restart the game once the client completes the process.
Reinstall Your Shaders
Shaders are programs that gamers install to render different pixels and enhance game quality. Sometimes, they can malfunction and interfere with gameplay, causing the dev error to show up. According to some gamers, reinstalling all shaders fixed the problem for them. You can try that and check if it also works for you.
Follow these steps:
Launch the game and head to Options.
Once the Options window appears, head to the Graphics tab.
Under the Graphics tab, scroll to Restart Shaders Installation.
Click on the Restart option in the confirmation menu.
Change Your Loadouts, Operators, and Skins
Sometimes, your PC could be free of fault and may not have anything to do with the error. In-game elements like skins and operators could be triggering the dev error 6634 and crashing your game.
So, try switching your loadouts and operators to Modern Warfare from Black Ops Cold War to check if the problem continues.
You can also remove any skins that you activated and check if that resolves the problem.
Check Your Antivirus Program
Sometimes, antivirus programs can interfere with your gameplay. Security applications tend to shut down processes they consider malicious, especially those that consume lots of system resources the way games do.
This interference could be the reason COD: Warzone keeps displaying the error and shutting down.
So, it will do well to add the game as an exception or exclusion in your antivirus program. Doing that will prevent the program from interfering with the game in the future.
If that troubleshooting method doesn't work out, reinstall the antivirus program and check again.
Wrapping Up
You no longer have to deal with the frustration of starting your match from scratch in Warzone. You can take measures to ensure you don't experience this issue in the future. Using a tool like Auslogics Driver Updater will help you keep your graphics card driver and other drivers up to date so you don't have to experience such issues.