Almost 10 years since its release, Grand Theft Auto V is still the most popular and most purchased PC game of all time. The hit open-world video game has developed into a money-printing franchise, and fans can't wait for the next installation. The big question now remains, will Rockstar Games be releasing its next big game? If so, when will GTA 6 come out?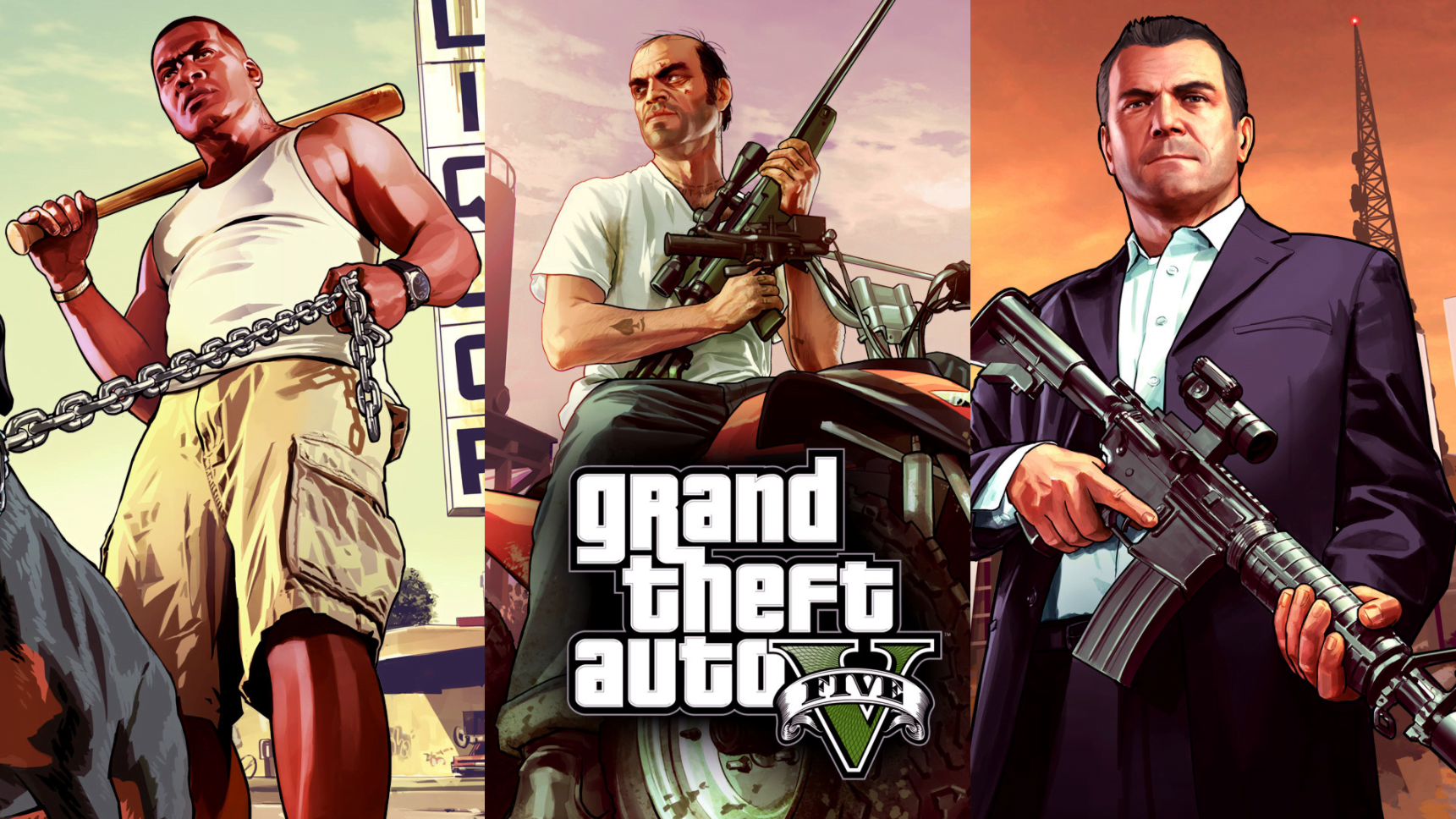 What Is GTA 6?
Grand Theft Auto 6 (GTA 6) is the presumed name of the next Grand Theft Auto game. It's part of the GTA franchise from Rockstar Games, which has been a huge success in the past years. Grand Theft Auto is a series of third-person, open-world, action-adventure games published by Rockstar Games. It features mission-based gameplay where a player steals a vehicle without the owner's consent, intending to permanently keep it.
This creative auto crime game involves driving vehicles recklessly and dangerously or using the stolen vehicle to commit crimes, like robberies. The entire story entails pulling heists and building an empire of crime. Players can perform different jobs in fictional locales, which are modeled after real-life cities. To date, the Grand Theft Auto game series consists of seven standalone titles, multiple expansion packs, and handheld games.
The last installation, GTA V, is one of the fastest-selling games in history, raking $800 million on its first day of release and hitting the $1 billion mark within three days. It has sold over 145 million copies, earning about $6 billion in worldwide revenue. Its success is partly due to the multiple protagonist design, presentation, and improved gameplay. GTA 5 for PC, Xbox One, and PS4 also introduced new features, including first-person gameplay, denser traffic, upgraded weather effects, and new wildlife and vegetation, to mention but a few.
For that reason, GTA VI is expected to come with enhanced features depicting the modern world.
What Year Is GTA 6 Coming Out on PC?
Since 2013, Rockstar Games has not released another GTA installation, so it is no wonder that players are eagerly anticipating a new entry soon. If any of the rumors making rounds are anything to go by, the GTA 6 release date is not that far off. Reports by industry insider Tom Henderson have piqued excitement and curiosity in gamers' minds. Tom has a long record of accuracy when it comes to early access information.
The GTA 6 game is certainly still in its early development, and as of now, all we can do is guess the release date. Sources put the predictions between 2023 and 2025, and with reports that Rockstar Games is doing its best to provide a masterpiece, we can understand the longer timeline.
If there is something we can deduce from the recent activities of Rockstar Games' parent company, Take-Two Interactive, it is that they are planning for something big. An SEC filing outlining the company's financial plans across the next five years shows that it is forecasting a considerable increase in advertising expenditures – totaling almost $90 million – in the fiscal year 2024.
This is a huge budget for any company in Take-Two Interactive's stable unless it's in preparation for a blockbuster title. In the past, impressive marketing budgets were the biggest signals of the arrival of highly anticipated game sequels. The newest round of rumors about GTA 6's release date suggests that a 2023 launch is probably immature, with multiple trusted industry journalists suggesting that a 2024 or 2025 launch is more likely.
There's no denying the fact that Rockstar's past with PC games has not been smooth. However, the immense popularity of GTA V and Red Dead Redemption 2 on PC is a solid reason the company should take the platform seriously. And with the release of Rockstar Games Launcher on PC in 2019, it's clear that they plan on hosting future games on PCs.
Judging by past events, we can assume a small gap between the release of GTA 6 on consoles and PC. It took GTA V a year and a half to be available on PC and Red Dead Redemption 2 almost a year.
What City Will GTA 6 Be In?
In a recent video that has gone viral, Henderson talked about Grand Theft Auto 6 and its settings. According to Henderson, Grand Theft Auto VI centers around Vice City and is set in the modern era. He added that the location will change and expand with new areas after the official launch.
The report by Tom Henderson, which was corroborated by trusted industry journalist Jason Schreier of Bloomberg, adds that the map will continue to evolve post-launch, much like what we see within the realm of Battle Royale. Most of the reports corroborate the same story, but we know these are only predictions and changes can occur at any time.
There is also a leak that GTA 6 will only be available on next-gen consoles, such as PS5 and Xbox Series X|S, and PC. Given the shortages of Xbox Series X and PS5 consoles that gamers are currently experiencing, it's claimed that Rockstar Games is waiting for the console market to expand. That is until the majority of players have managed to get their hands on them.
There have been several rumors trying to answer the next question in gamers' minds – where is the GTA 6 map located? While these leaks lean heavily on speculation, there are strong indications that the focus points towards GTA III's version of Miami. The reasoning behind this is that GTA Online's racing DLC, Open Wheels, features a race circuit that looks suspiciously similar to the outline of a map that would include Miami and some parts of Mexico.
If the leaks are to be believed, the game will be set in Florida and feature a map bigger than those of GTA 5 and Red Dead Redemption 2 combined, covering three cities, including Vice City. However, there isn't much to verify whether these rumors have any truth to them since Rockstar Games is keeping everything under wraps for now.
GTA 6 Features and Characters
With the hype for GTA 6 growing each day, new rumors keep surfacing. While Rockstar Games is yet to reveal details about what features to expect in GTA 6, players should anticipate some major improvements thanks to the new technology and advanced hardware and graphics on the latest PCs. According to some reports, some of the new features include
side missions, with some rumors suggesting that Liberty City is set to feature on a mission or two;
a wide range of weapons;
a playable female character;
a massive map;
a modern-day setting; and
multiple leads.
There have been various reasons put forward as to why GTA 6 will not be arriving any time soon. Some factions claim that with GTA 5 still generating a decent income, to the point that an expanded and enhanced GTA 5 edition is coming soon to PS5 and Xbox Series X, they wouldn't want to prematurely release GTA VI as it would be a wasted silver bullet.
We should also point out that 2020 was the year COVID-19 forced many industries to rethink and establish new workforce policies. The gaming industry was not spared, and many developments on ongoing projects were halted for safety reasons.
It's worth noting that Tom Henderson did caveat that all the details coming in are simply speculation and gamers should take the rumors with a grain of salt. It's also important to mention that Rockstar hasn't even confirmed GTA 6 to be in development. So, we can only speculate about the release date, the city GTA 6 will be set in, and the features to expect.
Take-Two Interactive Announces 93 Games in the Works
The Grand Theft Auto publisher, Take-Two Interactive, has revealed that it's working on 93 games and plans to release them within the next five years. Our hope is that GTA VI is one of them. During an earnings call, Karl Slatoff, the Take-Two Interactive president, stated that players should expect the strongest line-up in the company's history. Slatoff said that 63 of those games are "core gaming experiences", 17 are expected to be "mid-core or arcade", while 13 will be casual games.
Strauss Zelnick, the CEO of Take-Two Interactive, explained that the company plans to improve its financial results with "a handful or greater of new significant releases every year." He added that their strategy is to do better in the year when they can launch a number of titles and even better than that if they "are fortunate enough to have a blockbuster title."
Rockstar President Leslie Benzies teased in a 2013 interview with Develop Magazine, saying, "We don't know what GTA 6 will be, but we've got some ideas." While it's not much to go by, it's certainly a piece of solid information direct from the source. It's interesting to know that Rockstar has so many ideas about how the next GTA will be. We just hope they satisfy our curiosity by announcing news about the release date soon.
Any thoughts on the GTA 6 release date? And what do you expect to see in the new GTA 6? Let us know what you think in the comments section below!
Is Your PC Optimized for Gaming?
With more video games coming to PC, it's crucial that you keep your computer in top shape to prevent these games from crashing, freezing, or lagging. Computers, like any other machine, deteriorate in performance with continued use. That's why it's advisable to run regular maintenance using a safe and reliable PC optimization tool like Auslogics BoostSpeed. This program comprises more than 15 tools designed to tweak your system's settings and enhance its performance.
RECOMMENDED
Resolve PC Issues with Auslogics BoostSpeed
Besides cleaning and optimizing your PC, BoostSpeed protects privacy, diagnoses hardware issues, offers tips for boosting speed and provides 20+ tools to cover most PC maintenance and service needs.
FREE DOWNLOAD
BoostSpeed automates the process of removing junk files, empty registry entries and invalid keys, performs disk defragmentation, and offers privacy protection. Set your preferred Windows mode via the Optimize tab and customize how it operates. Use the Clean Up tab to get rid of duplicate files and empty folders or clean up your disks to free up valuable space. It also gives you the option to reduce bloatware by deleting unnecessary applications.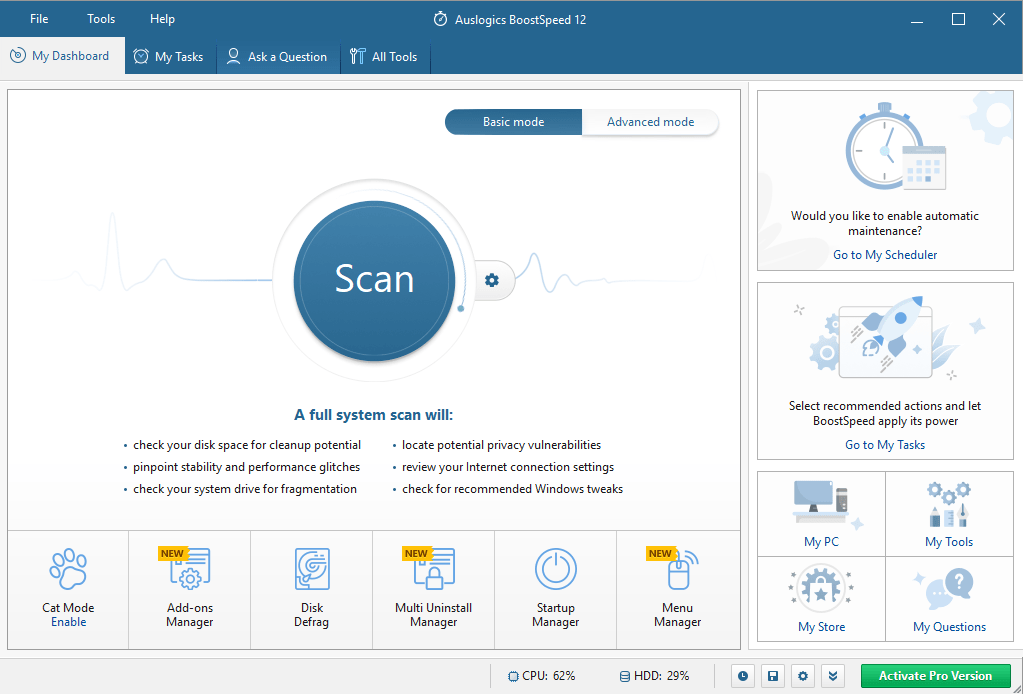 PC maintenance doesn't have to be a boring chore anymore. With Auslogics BoostSpeed, you can schedule automatic scans to make sure your system is continuously optimized.