If you have been using Windows for many years, you have probably been used to seeing the Blue Screen of Death (BSOD) errors. After all, they have become a common problem in Microsoft's operating system. So, when you see the 0x00000019 Bad Pool Header error on your computer, you should not worry too much. Like most BSOD issues, this problem can also be fixed. In this article, we will teach you how to get rid of the 0x00000019: Bad Pool Header error message.
Why Do I Get the 0x00000019: Bad Pool Header Error Message?
Before you learn how to fix 0x00000019 BSOD on Windows 10, it is best that you understand the reasons why the problem appears. This way, you will be able to prevent it from happening again. In most cases, the 0x00000019: Bad Pool Header error message shows up because of hardware and software problems. If you installed an application, driver, or antivirus that is incompatible with your laptop or system, this BSOD error will occur.
Solution 1: Updating your Device Drivers
It is possible that you have outdated or corrupted drivers in your system, which causes the 0x00000019: Bad Pool Header error message to appear. So, to fix the issue, the appropriate solution is to update your drivers. You can manually do this or go the easier route and use Auslogics Driver Updater. We always recommend the latter because manually updating drivers can be complicated, tedious, and time-consuming.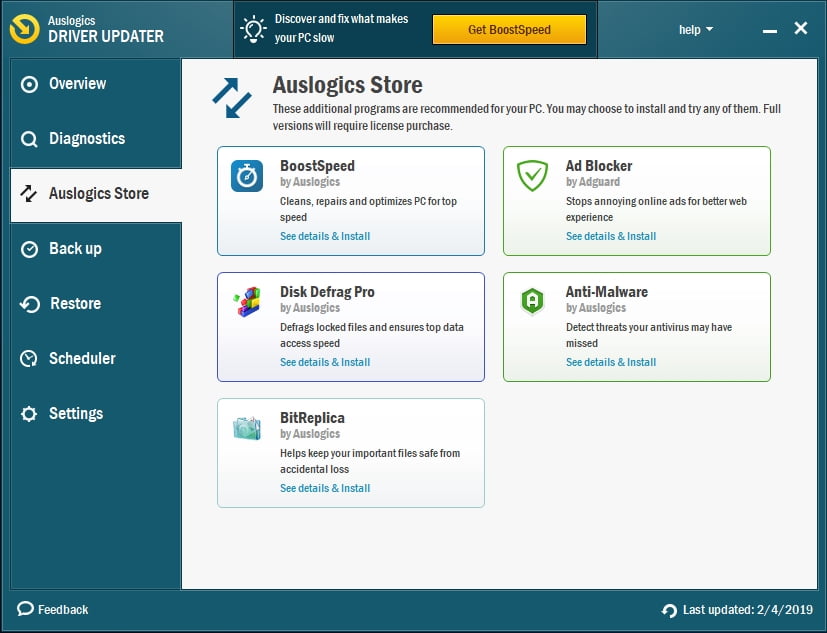 Manually Updating your Drivers
To discover which causes the error, you have to update your drivers one by one. The process involves going to the manufacturer's website and searching for the latest driver that is compatible with your operating system. You have to ensure that you're downloading and installing the right driver. Otherwise, you will cause system instability issues on your computer.
Using Auslogics Driver Updater
Learning how to fix 00000019 BSOD on Windows 10 is not an easy task, and manually updating your drivers is not a walk in the park. So, if you do not have the tech skills, patience, and time to do it, you can opt to automate the update process, using Auslogics Driver Updater. You do not have to worry about making mistakes because this tool will look for the right drivers that are compatible with your system version. What's more, it will address all problematic drivers—not just the ones which caused the 0x00000019: Bad Pool Header error. So, you can expect your PC to have better speed and performance once the process is complete.
Solution 2: Disabling Fast Startup
Fast Startup is useful when you prefer a shorter restart time for your computer. However, it can cause problems with the shutdown and startup processes. That said, this feature is one of the reasons why the 0x00000019: Bad Pool Header error message appears. To resolve the issue, you can try disabling the feature by following these steps:
Open the Run dialog box by pressing Windows Key+R on your keyboard.
Type "powercfg.cpl" (no quotes), then hit Enter.
Go to the left-pane menu, then click the 'Choose what the power buttons do' option.

RECOMMENDED

Resolve PC Issues with Driver Updater

Unstable PC performance is often caused by outdated or corrupt drivers. Auslogics Driver Updater diagnoses driver issues and lets you update old drivers all at once or one at a time to get your PC running smoother

DOWNLOAD NOW

Select the 'Change settings that are currently unavailable' link.

If you cannot resolve the

problem yourself, you can

ask our certified PC technicians for immediate assistance in the

chat

right on this page.

Remember to deselect the box beside 'Turn on fast startup (Recommended)'.
Click Save Changes, then exit the window.
Restart your PC, then check if the error is gone.
Solution 3: Disabling Windows Search
To improve your searching experience, your system uses the Windows Search service that indexes the files on your computer. However, it can get corrupted and cause various BSOD issues, including the 00000019: Bad Pool Header error. So, you can try disabling it and see if it fixes the problem. To do that, follow the instructions below:
On your keyboard, press Windows Key+R. This will launch the Run dialog box.
Once the Services window is up, look for Windows Search. Right-click it, then select Stop.
Double-click Windows Search.
Click the drop-down list beside Startup Type, then select Disabled.
Click Apply and OK to save the changes.
Restart your computer, and check if the error persists.
Solution 4: Running Windows Memory Diagnostic
It is possible that a recent memory upgrade caused the 0x00000019: Bad Pool Header error message to appear. So, you can try running the built-in Windows Memory Diagnostic tool to determine if there are problems in your computer's memory. To do that, follow the instructions below:
Press Windows Key+S on your keyboard.
Type "memory" (no quotes), then select Windows Memory Diagnostic from the results.
Save all your work and close all apps.
Go back to Windows Memory Diagnostic, then click the 'Restart now and check for problems (Recommended)' option.
There are two possible results after the memory test:
No memory errors were detected from Windows Memory Diagnostic:
When this message shows up, it means that your RAM does not have memory problems. You can proceed to Solution 5 to fix the issue.
Memory error reports:
Troubleshoot the problem by following the on-screen instructions.
Solution 5: Inspecting your Hardware
It is possible that the RAM stick itself is malfunctioning. To determine if that is true in your case, you can follow the steps below:
Switch off your computer, then unplug it.
Disconnect all your RAM sticks.
Reconnect one of the sticks, then restart your computer. Do this for every RAM stick.
If your PC does not boot with one specific RAM, you know that it is the culprit behind the 0x00000019: Bad Pool Header error.
Can you suggest other ways to fix the 0x00000019: Bad Pool Header error?
Feel free to share your ideas and solutions in the comments section below!